THE FACES OF OPERA
Photographs of the Arena, Verona,
by Sirio, Alessandra, and Filippo Tommasoli
The majesty of the scenery, the protagonists of the shows, the discreet backstage charm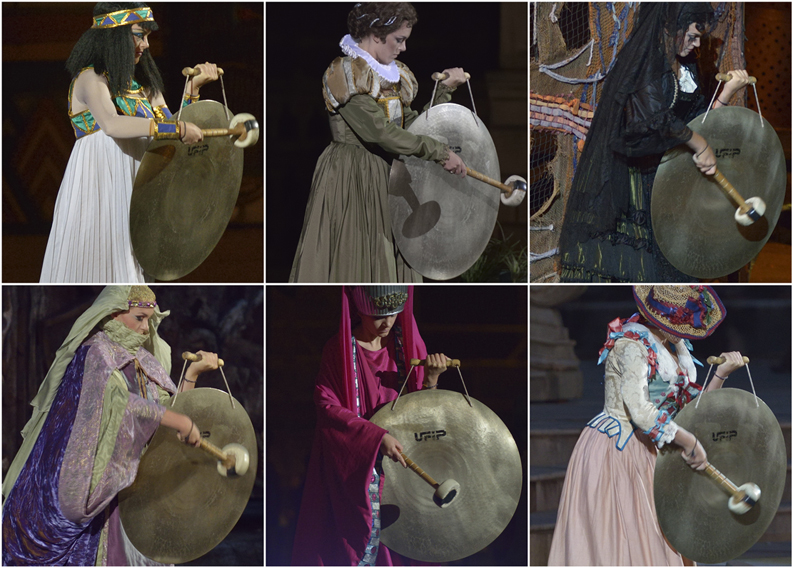 In frame after frame, these images recount the uniqueness and fascination that characterises the opera festival in the huge amphitheatre that is the Arena, Verona. In them the fascination of the Arena is obvious at first glance and is then further developed through a series of photos that allow us to experience and re-experience the emotional moments that are only to be found in this special opera festival: the majesty of the productions and of the scenery which is specifically undertaken by international designers; the involvement of a public which is unique in the world; the personalities of the various conductors; the rituals, emotions, and glamour of the interpreters in their dressing rooms; the rehearsals and the protagonists on stage.
The first aim of this work of ours is without a doubt to reveal to the public the various emotions we have experienced in the two years in which we have been immersed in this particularly fascinating world. A world that weaves into the single fabric of everyday life the soul of Romanticism and the stress of staging different operas every day, the poetry of melodies, and the anxiety of sticking to timetables, something you are reminded of by the exciting developments on stage and rehearsals backstage. With our own eyes we have seen the results of the labour of hundreds of people who have staged shows with a great lyrical atmosphere, and we have seen the gaze of thousands of spectators who, after lengthy queuing at the entrances, have enjoyed and judged the operas; we have seen the professional rigour of rehearsal days, the agitation in the dressing rooms, and the tired smiles on stage when the spectators applaud. And then there are the crowded nights too, because the show starts at dusk and continues until dawn in a continual coming and going of men and women assembling and dismantling the scenes both inside and outside the amphitheatre.
To convey all this has not been easy because it is not easy to convey the truth behind the luminous veil that first appears, and then involves and moves you and makes you a participant in the magic that is renewed every evening in Verona's Arena.
The show is promoted by the Fondazione Arena di Verona and AMO Arena Museo Opera, and organized in collaboration with the Archivio Tommasoli, with the support of ATF Funivia Malcesine-Monte Baldo and the Consorzio Lago di Garda è.
The Digigraphie certified photos have been printed in pigments on pure cotton Hahnemuehle Baryta paper using a Fine Art digital technique in the Archivio Tommasoli studio by the photographers themselves.
The show will run until 13 September in three prestigious localities on Lake Garda: Malcesine, Peschiera, and Sirmione.
for more info:
info@arciviotommasoli.it
tel +39 045 8003687
www.arena.it